Interactive communication tools: Zoom
Holding Video Conferences with Zoom: Tutorial for Beginners
The current Covid-19 crisis is forcing many companies and educational institutions to reevaluate. Schools were closed and crowds were prohibited in order to slow down the further spread of the novel coronavirus and thereby relieve the health system. How can we keep in touch with each other during these difficult times? How can companies hold meetings and schools reach their students? Quite simply: through digital technology.
Meeting tools such as Zoom enable video conferences and meetings to take place over physical distances. Zoom is a service from the US company Zoom Video Communications and is already used by over 10,000 schools and over 750,000 companies worldwide. It's picture and sound quality is good and operation is simple, which is why Zoom is also suitable for video conference beginners.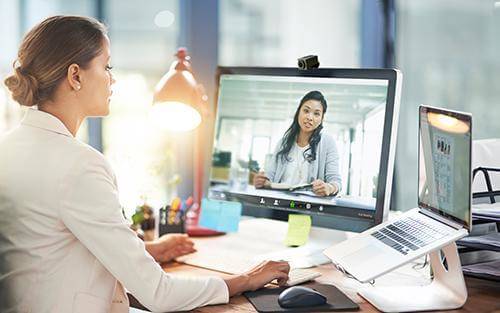 Organize free online meetings
The basic version is free and allows a maximum of 100 participants. However, meeting length is limited to 40 minutes. In the Pro version, the time limit for meetings is 24 hours. The Pro version of Zoom costs 13.99 euros per month per moderator. The moderator is someone who can invite people to online meetings. Video conferences in all versions are free for the participants. Companies or schools that want to invite up to 500 people to online meetings, presentations or lectures can use a business or enterprise version for EUR 18.99 per month per moderator.
Let's go: inviting guests to a Zoom meeting
To organize an online meeting you need an account. This can be easily set up on zoom.us with your email address. Then you start a test meeting to get to know the functions of Zoom. For example, you can share your screen with participants, start a presentation, record the conference, communicate with each other in a chat and exchange files and much more. After the test meeting, you can start your first actual meeting and invite colleagues, employees or students to join by email.
Anyone invited to an online meeting with Zoom via email or a link will receive a 9, 10, or 11-digit number – the meeting ID. You can now take part in the video conference using a tablet, PC, smartphone or laptop. This is possible via the app or the browser. You do not need to log in or have your own account to enter the meeting ID. If you just want to listen, you can dial in by phone. The meeting ID is also required for this. Interested parties can find more information about the first steps with Zoom and a helpful FAQ at support.zoom.us.