Notebooks, routers and more: IT in the event industry
Our everyday lives would no longer be conceivable without modern information technology: computers, smartphones and tablets have long become ubiquitous. A lot of hardware and software is also used in the event industry to implement events of all kinds in a technically precise manner. IT and professional event technology belong together.
Notebooks, routers, WLAN infrastructure and servers are used, for example, to digitally stream events. Whether live broadcast of a concert or internal training video, without IT, recording, processing and distribution would not be possible.
Technical problems? Not with us!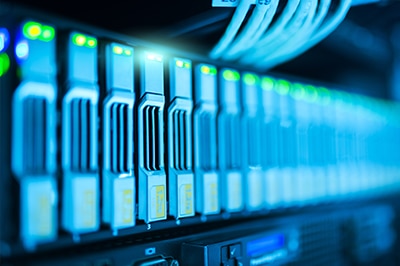 It's also clear that in an increasingly networked world, all technical components must mesh precisely. We ensure that everything works perfectly with networks and computer technology and only use equipment from renowned manufacturers for your event.
Our experienced employees ensure that the IT equipment is set up properly and that technical support is provided during your event. Because nothing is more annoying than technology failing during a carefully planned event! So trust the professionals. We at GET Green Event Technology take care of the impeccable running of your event and find a solution for (almost) every IT problem that arises in a timely manner.
Sustainable IT: "Green" technology, good working conditions
In the meantime, environmental awareness is becoming increasingly important in IT. We, too, have committed ourselves to sustainability and implement this in all business areas – also in information technology: We strive for the most energy-efficient use of our IT equipment and use valuable materials such as paper and plastic sparingly.
For us at GET Green Event Technology, sustainability also has a social component: We guarantee our employees fair pay, create good working conditions and speak out against all forms of discrimination. After all, the focus at events is not on the technical equipment (as modern and powerful as it may be) – but on the people.
Our IT equipment includes the following well-known brands:
Let's talk about your next event!