Our equipment for your digital event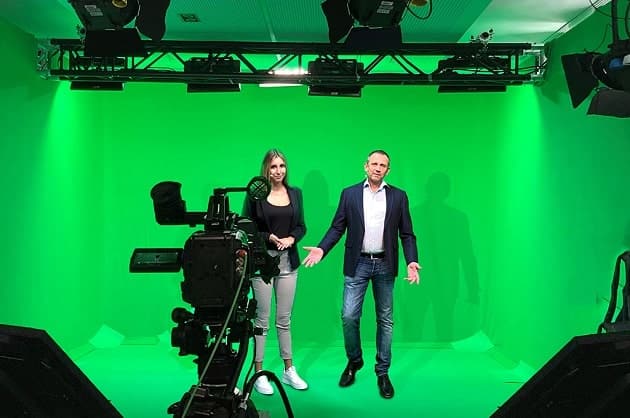 Streaming has become a part of our everyday lives: we stream films, series, songs and live concerts – anytime and anywhere. Today's laptops, tablets, smartphones and smart TVs give us access to an infinite amount of digital media. So why should people fly halfway around the globe for a conference or training course when they can take part in these events virtually – from the comfort of their own home? The current streaming technology makes it possible: GET Green Event Technology also brings your event to the Internet!
Stream securely and in compliance with data protection regulations
Whether it's an interactive workshop, an inspiring keynote or a digital conference: With our proven streaming technology, we ensure that your content arrives safely and reliably on the devices of all participants. Good to know: Our servers are located in a German data center that is security-certified according to ISO27001. Of course, the entire streaming process is GDPR-compliant, with end-to-end encryption. We use tokens to protect your stream from unwelcome copying.
Upon request, we will accompany you on your hybrid or virtual event from participant registration all the way to playback of the recorded stream as video-on-demand. We provide you with a registration tool that participants can use to log in, create a personalized landing page and use a high-quality streaming encoder. Integration of tools such as Slido or Wikis is possible. If you are looking for a professional to supply live streaming technology, you have come to the right place.
We create your individual streaming channel
As a backdrop for your digital event, we deliver a virtual studio out of the green box. In short: with our technology, we provide you with your own streaming channel, with content and graphics according to your wishes. Technical support during the transfer is of course possible at any time.
In streaming technology, we work with encoders from well-known brands such as Teradek and Haivision. In addition to state-of-the-art, high-performance technology, the sustainability aspect is always in the foreground at GET Green Event Technology. For example, we pay attention to reusable packaging materials, the use of energy-saving technology and the shortest possible distances to stream your event in an environmentally and climate-friendly manner.
Let's talk about your next event!