Whether classical, jazz or hard rock: what would a concert be without excellent sound? But not just music events. International conferences and conventions are also dependent on sophisticated audio technology – especially when interpreters are required. And at trade fairs, music and sound effects have become increasingly important tools in drawing visitors to certain stands over others.
Selecting the correct sound system for a given room is the specialty of our sound engineers and audio experts. We ensure optimal sound levels throughout the room so that the audio resonates at the desired level of intensity. When it comes to sound engineering, we pay close attention to the room design and what influences it's acoustics.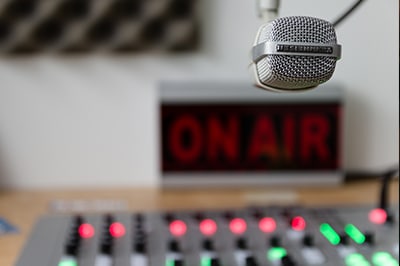 Audio technology with passion and precision
At GET Green Event Technology, we focus on using the right amount and combination of equipment to provide the perfect solution tailored to your needs. This can be something as simple as a conference sound system with minimal use of loudspeakers and maximum pressure. Or it can be an elaborate musical experience at a large classical or modern concert requiring a stately sound system. And of course with our audio technology we also manage the sound level measurement at your event, to remain within DIN 15905-5 limits.
In addition to impeccable sound, the sustainability aspect is also very important to us when selecting our audio technology. At GET Green Event Technology, we invest in high-quality, durable equipment and value reusable packaging material. This not only improves the ecological balance of your event – it's also favourable to your wallet. Using sustainable materials and technology saves on costs and this is a financial advantage that we are happy to pass on to you as a customer.
High-quality audio technology: well-known brands in action
Last but not least, for us, sustainability also represents a social aspect. We treat all our event technicians fairly; having worked with many of them for years. Satisfied, reliable employees and high quality audio technology – this is our formula to successfully provide optimal sound support for your event.
Our audio technology equipment includes the following well-known brands:
d&b Audiotechnik    Meyer Sound
Let's talk about your next event!