Our individual construction for your event
Stable and flexible construction elements allow us to bring your vision to the stage. Whether indoors or outdoors in wind and weather: our truss systems can be used everywhere. We are also happy to take your individual wishes into account and, as experts in the field of event and event technology, will accompany you from the selection of trusses to dismantling.
Good to know: Event professionals refer to modular trusses made of aluminum or steel as "trusses" or "trusses". Such elements are used, for example, for superstructures in exhibition halls or on mobile stages. Among other things, they can be used to carry payloads or be equipped with lighting technology. If you would like to rent truss systems for your event or would like advice, we are happy to be your contact.
Trussing: models and setups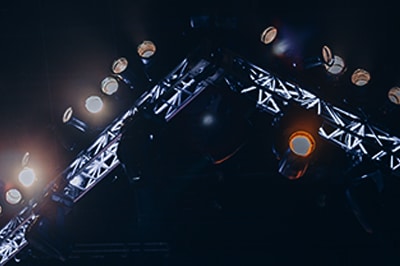 Various models are used for trussing: 1-point trusses, 2-point trusses, 3-point trusses and 4-point trusses. The decisive factor is the number of chord tubes, i.e. the cross connections within the trusses. Depending on the type of event and the chosen location, the event technicians from G.E.T. Green Event Technology will select the appropriate trusses for you. These will then be professionally assembled accordingly. If you want to rent truss systems for your event, we are at your disposal as event professionals.
There are different construction forms for trusses, for example ground support, tripod or floating. Whether standard setup or special construction, whether bridge, camera tower or square: Our experts will be happy to advise you on trussing!
Sustainably good: trussing and stage technology
Whether it's a huge rock open air or a small theater stage, an appealing trade fair stand or an inspiring conference: If you are planning an event, we provide you with the appropriate stage technology including trussing and high-quality truss systems.
In everything we do, we not only pay attention to the highest quality, but also to sustainability. Because at G.E.T. Green Event Technology, we are committed to "green" event technology. We always work in a way that is as environmentally friendly and resource-friendly as possible, relying on recyclable packaging materials and digital communication, for example.
Because our heart beats not only for perfectly planned, rousing events, but also for our environment. We have made it our mission to preserve the beauty of our planet for our descendants. We at G.E.T. Green Event Technology believe: Great events and an ecological way of working are not mutually exclusive. Do you have any questions? Just contact us.
Our trussing equipment is represented by the following well-known brands:
Lassen Sie uns über Ihre nächste Veranstaltung sprechen!