Your digital event – live from the green box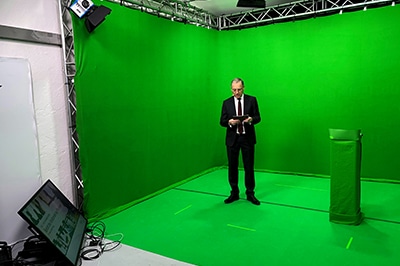 Immerse yourself in the virtual world with GET Green Event Technology! We open up completely new possibilities for you and your company to present your ideas, your products and of course yourself to the world. This is how it works: We build you a green box and install in it your very own digital studio. The special thing about it is that the digital event can be adapted to your individual CI – for an authentic live experience.
Whether it's a kickoff meeting or a product presentation, an award ceremony or an annual general meeting: We stream your event from the green box so that viewers all over the world can take part in it up close via the Internet. That guarantees a real live feeling on the laptop, tablet or smartphone!
Safer streaming from the green box: maximum data security guaranteed
Your audience registers for the event via global or personalized login and then integrated into the event via Microsoft Teams, Skype or WebEx. Interactive live tools enable communication with one another and can be used for Q&A sessions or surveys, for example. Don't worry, your data is safe with us: All our events from the green box are GDPR-compliant and all servers are located in Germany. Of course, it is possible to record the live event and then make the video link available to the participants and everyone who would have liked to be there.
Green green box: climate-friendly events thanks to CO2 savings
Virtually implemented corporate events, public events, congresses, meetings and trade fairs offer many advantages: You can do without an expensive location, and there are no costs for travel, hotel and catering. At the same time, the range increases thanks to the
digital live stream
. Targeted social media campaigns generate additional attention. Last but not least, the environment and the climate are protected: if you don't have to get on a plane or car to enjoy a live event, you save a lot of CO2. The sustainability concept behind the events from the green box is particularly important to us at GET Green Event Technology.
Get in touch now and let yourself be inspired
Let's talk about your next event!