Interactive communication tools: Microsoft Teams
Microsoft Teams for Education: How digital teaching works
Photocopiers, overhead projectors, cassette recorders – in many German schools this is still what media use resembles. Digitization offers more opportunities for educational institutions, and not only during school shut-downs, which were ordered as a protective measure against the rapid spread of the novel coronavirus. Services like Microsoft Teams provide a digital platform on which teachers can store content and assignments, and where students can submit their completed work. This means that students can not only receive teaching material during the Covid-19 pandemic. After the crisis, use of the tool can continue for students away from school due to illness or other reasons.
Microsoft Teams is free for schools
As a pure cloud service, Microsoft Teams is part of the Office 365 Education package. This is free for teachers, pupils and students: You can access it with a valid school email address. Without the need to install any software, you can use Microsoft Teams online with your web browser, regardless of device. However, it's practical to install a client for Windows, MacOS, Linux, Android or iOS. Good to know: The service runs via European data centers and is compatible with German data protection guidelines such as the GDPR.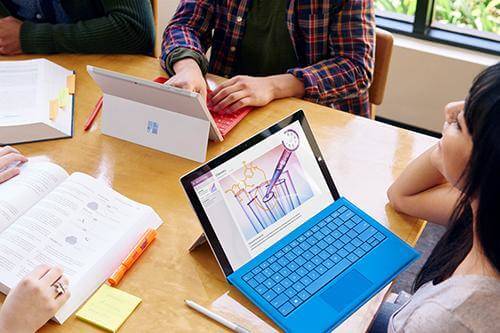 Digital distance learning: This is what the service offers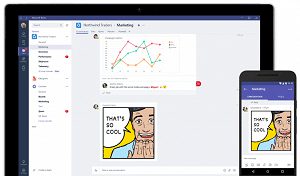 With Microsoft Teams, teachers can assemble their pupils or students into groups – for example, broken down into classes, subjects or courses. In addition to the possibility of data exchange, there is a chat function, also with audio / video function. In this way, questions and problems can be clarified in individual or group discussions. Word, Excel and PowerPoint documents can be viewed and edited in the browser. School children, students or course participants can access the teaching material from anywhere. Teachers can use the Assignments tab to review learning progress and provide feedback on the Grades tab. Online meetings, be it with colleagues, superiors, parents or students, are also possible with Microsoft Teams
Innovative, creative teaching
Digital distance learning goes far beyond the classic face-to-face teaching. Microsoft Teams supports numerous common applications, so that, for example, presentations can be integrated and experts can be connected via Skype. For more information, educators can refer to the online guide, Four Steps to Distance Learning with Microsoft Teams. In addition, Microsoft runs a Q&A video conference every Monday at 3:00 p.m., where members of the education team answer questions from school principals, teachers, and IT administrators.
To the overview: "News"
Images: Microsoft